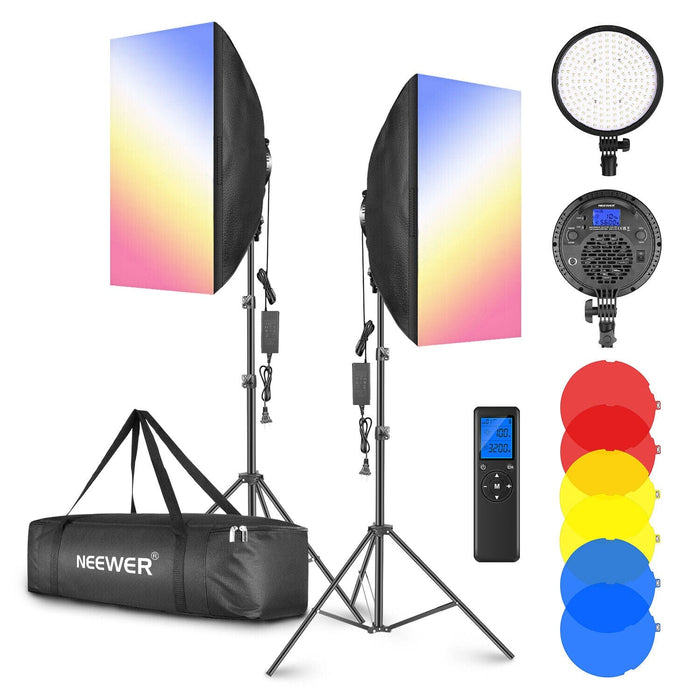 Neewer 2-Pack 100W Softbox Video LED Lighting Kit with 2.4GHz Remote Control
Save

20

%
Save

20

%
Original price
$499.99
-
Original price
$499.99
Availability:
12 in stock, ready to be shipped
Product Description:
Note
Batteries are not included.
This kit includes two 100W 192-LED lights, two 20" x 28" softboxes, two adjustable light stands, a 2.4GHz remote, six color filters and other accessories to improve your photography. A carrying bag is also included for photographers who travel a lot.
The silent cooling fan under 50dB will not cause noise in your videos.
Made of nylon fabric, the large rectangular softbox features a reflective silver interior to produce more light output and specular highlights. The included white diffuser helps to diffuse harsh lighting and creates a softer, more even light for portraiture.
Control the light brightness (from 10% to 100%) and adjust the color temperature (from 3200K to 5600K) with the on-board controls or the 2.4GHz remote. Unlock your creative potential with the red/yellow/blue filters.
Set up the softbox & light stand, plug the power adapter into a wall outlet, and start shooting. Or take the photography work wherever you go with your own Sony NP-F550/NP-F970 Li-ion batteries.
Collapsible aluminum alloy light stands can extend to 6.2'/188cm and fold down to 2.6'/79cm for easy storage and transportation.
Specifications
Model: NW100-2.4G
Output Power: 100W
Input Voltage: DC 24V
Luminous Flux: 10500 lm
Color Temperature: 3200K~5600K
Dimming Range: 10%~100%
Number of LEDs: 192
Battery Type: Sony NP-F550/NP-F750/NP-F970
Softbox
Dimensions: 20" x 28" / 51.1 x 71cm
Material: Nylon
Light Stand
Maximum Height: 6' / 188cm
Minimum Height: 2.6' / 79cm
Folded Height: 27.6" / 70cm
Material: Aluminum alloy
Package Contents
2 x 100W LED Light Head
1 x 2.4GHz Remote Control
2 x Softbox (20" x 28")
2 x Light Stand
2 x White Diffuser
2 x Red Filter
2 x Yellow Filter
2 x Blue Filter
2 x Power Adapter
1 x Carrying Bag
Powerful Softbox Lighting Kit: Featuring 192 LED bulbs, 100W output power, adjustable color temperature (3200K~5600K) and adjustable brightness (10%~100%), this lighting kit is perfect for portrait/product photography, YouTube vlogging, home studio, and more. Also comes with a 2.4GHz remote and six color filters (red, yellow, blue) for added convenience and more creative work
Studio Softbox: Nylon softbox with reflective silver interiors and white diffuser softens the LED light and creates more natural, even lighting for enhanced portraits
Adjustable Light Stand: The aluminum alloy light stand is stable enough to support the light head and the softbox. It's easy to set up and fold down. Adjust the height from 2.6'/79cm to 6.2'/188cm
Dual Power Options: Powered by the power adapter or NP-F550/NP-F970 rechargeable Li-ion batteries (not included) for on-location shooting and outdoor photography
Package Contents: Neewer Softbox with 100W LED Light Head 2-Pack, 2 x Light Stand, 2 x Power Adapter, 2 x Red Filter, 2 x Yellow Filter, 2 x Blue Filter, 2 x White Diffuser, 2.4GHz Remote Control, Carrying Bag