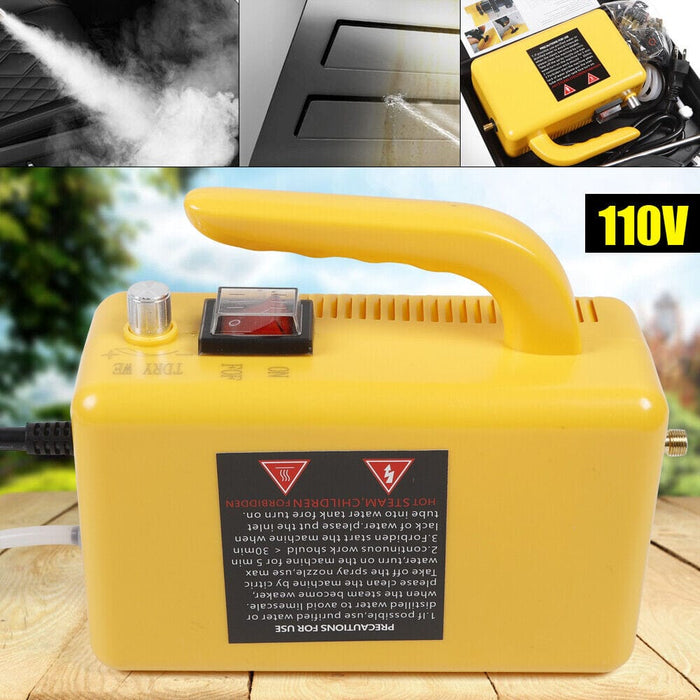 110V 1700W High Pressure Steam Cleaner Handheld Mobile Steamer
Save

40

%
Save

40

%
Original price
$299.99
-
Original price
$299.99
Availability:
25 in stock, ready to be shipped
Certainly! Here are three benefits of using a high-pressure steam cleaner:
Effective and Chemical-Free Cleaning: High-pressure steam cleaners use the power of steam to clean and sanitize surfaces. The hot steam, delivered at high pressure, can effectively remove dirt, grime, grease, and stains from various surfaces, including floors, tiles, carpets, upholstery, kitchen appliances, and bathroom fixtures. The heat from the steam helps to break down and dissolve stubborn dirt and bacteria, while the high pressure aids in lifting and removing it. The use of steam eliminates the need for harsh chemicals, making it an eco-friendly and safer cleaning option.

Versatility: High-pressure steam cleaners are versatile tools that can be used for a wide range of cleaning tasks. They come with various attachments and nozzles that allow you to tackle different surfaces and areas effectively. Whether you need to clean hard floors, sanitize bathroom tiles, freshen up carpets, remove grime from oven surfaces, or even clean car interiors, a high-pressure steam cleaner can handle multiple cleaning applications, making it a versatile and cost-effective tool.

Deep Cleaning and Sanitization: One of the key benefits of high-pressure steam cleaners is their ability to penetrate deep into surfaces and effectively sanitize them. The high temperature of the steam helps kill bacteria, germs, and allergens, providing a thorough and hygienic cleaning experience. This is particularly beneficial for households with pets, individuals with allergies, or areas that require high levels of cleanliness, such as kitchens, bathrooms, and healthcare facilities. Steam cleaning can help create a healthier living environment by reducing the presence of harmful pathogens without the use of chemical disinfectants.
Name: High Pressure Steam Cleaner Machine
Material: Plastic & Metal
Water Consumption: 100-200ml/min
Working Temperature: >100℃
-The product is made of aluminum alloy and has a good heat collecting effect.
-Degreasing is fast, the temperature can reach about 100 °C.
-Save energy, short time, less water, no detergent added.
-Through the high-pressure high-temperature steam and strong spray force, with anti-dry, automatic temperature control reset multiple protection.
-The gasification part has a circular design with the same inlet and outlet apertures. Instantly vaporize.
-Ultra-thin design, small and exquisite, durable plastic shell, new materials (flame retardant, heat-insulating, non-conductive), safer to use.
-The operation is simple, and the switch is directly turned on.
Application: Easy to remove oil, dust, disinfection, 360 ° all-round cleaning
Package Include: