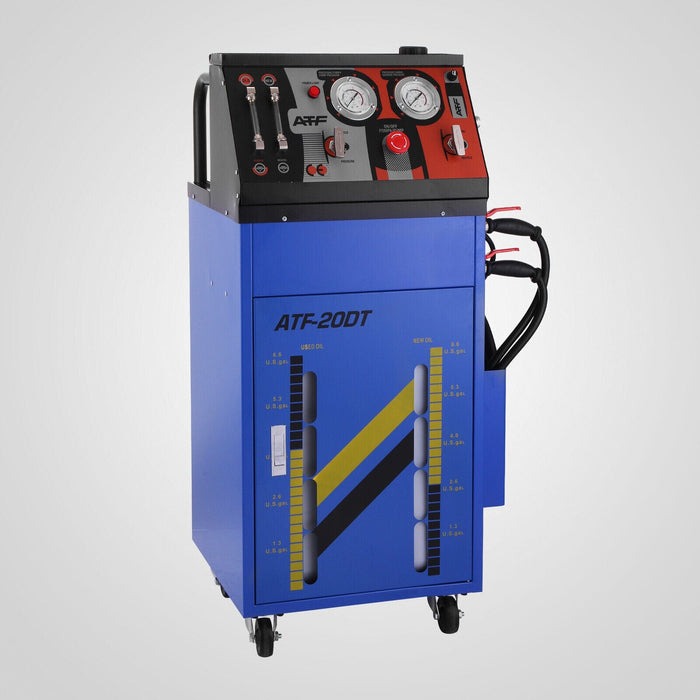 12V Auto Transmission Fluid Oil Exchanger Flush Cleaning
Save

35

%
Save

35

%
Original price
$1,299.99
-
Original price
$1,299.99
Availability:
17 in stock, ready to be shipped
This Transmission Fluid Flush Exchange Machine, its flow direction is automatically controlled, and the flushing oil exchange machine has an equal amount exchange system. The power of gear- box and the exchanger is easily used to change the oil. The efficiency is indicated when it works on what you want to remove such as the grease and metal fillings. You can use it and install it easily. You can't miss it !
How to use:
1. Fill the new oil barrel into the 12 liters of automate gearbox barrel. Turn the left switching valve to "PRESSURE", and the right to "RECYCLE". If external new oil is needed, then link the transparent vitta and the external new oil "FILLING", and turn the right switching valve to "FILLING".
2. Find out the cool off oil vita ATF.
3. Start the engine temporarily and judge the direction of the outlet and input oil of both side.
4. Link the cool off oil vitta and the sphere valve, link the red outlet oil valve to the native machine "RETURN", while the input oil vitta is linked to the native machine's blue plastic oil vitta "PRESSURE".
5. Butt the roof of the car, since every impetus gear needs operating.
6. Link the compressor and the joint "AIR".
7. Start the engine, cutting in gear makes the used oil in the auto gear box barrel back to the native machine's used oil barrel to 3-4 liters.
8. Switch down the sphere valve of red outlet oil vitta, turn on the switching valve of the native machine("+" direction means enlarging the volume "- "direction means diminishing the volume), first adjust the pressure to 30 PSI, then begin to fill new oil into the gear box, auto-speed-variable box then begins the exchange of new and used barrel, decide whether to enlarge or diminish the pressure.
9. The inspection window of the machine "NEW OIL" is which the new oil runs through, the inspection window of the outlet oil "USEDOIL" is which the used oil of the gearbox runs through.
10. Pay attention to the change of volume and color of the oil in the inspection window of the outlet oil "USED OIL", then we can adjust the volume at any time in order to meet the need of the oil volume in the gearbox, until the outlet oil change from foul into the same color as new oil.
11. While the new oil and used oil is exchanging, every gear is shifted. Stay for 5-10 seconds depending on complexion.
12. Connect the vitta of gearbox, start the engine, fill in "P" oil catch, supply ATF oil depending on oil level, meanwhile check if there is any oil leaked. When the oil level is enough, check every mile when attempt to drive.(which is absolutely necessary).

Driving force: (Electric) DC12V
Pressure gauge: 0-60PSI
Weight: 84 lb/38Kg
Measure: 368*432*1016 mm(14.5*17*40 inch)
Scope: Middle, Small Gasoline Motor Car & Diesel Vehicle
Warranty: 2 Years
1 X 12V Auto Oil Exchange Flush Cleaning Machine
1 X Instruction Manual
1Set X Connector (28Pcs)  + Box
4 X Wheels
16 X M8

 

Screws(for fixed wheels)
1 Set X

 

Oil Pipe
Specifications
Driving Force: (Electric) DC 12V

Pressure Gauge: 0-60 PSI

Weight: 84 lbs / 38 kg

Item Dimension: 14.5" x 17" x 40" / 368 x 432 x 1016 mm

Scope: Middle, Small Gasoline Motor Car & Diesel Vehicle
Package Content
1 x Auto Oil Exchange Flush Cleaning Machine

1 x Set of Connector (28Pcs) + Box

16 x M8 Screws (for Fixed Wheels)