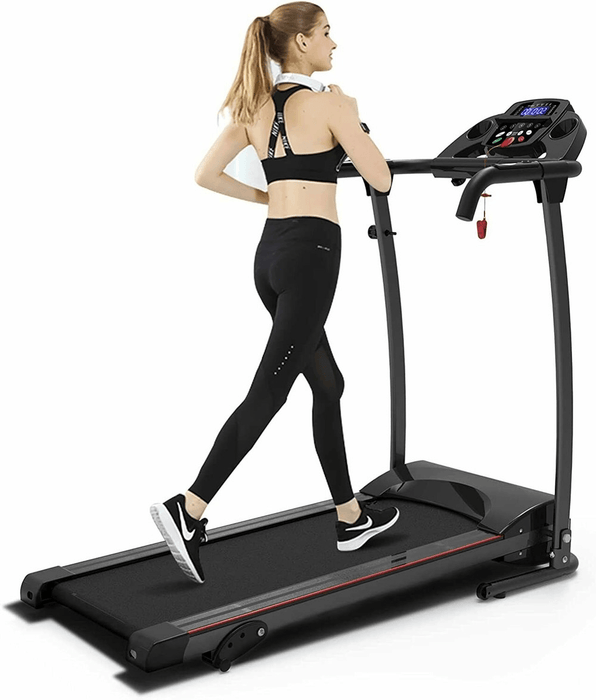 2.0 HP Folding Treadmill with LCD Display Walking Running Machine for Home Gym
Save

25

%
Save

25

%
Original price
$999.99
-
Original price
$999.99
Availability:
15 in stock, ready to be shipped
MULTIFUNCTIONAL TREADMILL. This folding treadmill home treadmill brings you a high-quality experience, the multifunctional LCD display tracks your performance ,you can exercise anytime after work.

MULTI-FUNCTION LCD DISPLAY & HANDRAILS. LCD Mode---Heart rate, scan, speed, distance, time and calories. Handrails have speed +/-, start/stop and heart rate test functions.
LOW NOISE & SAFETY PROTECTION FUNCTION. This electric treadmill with low noise motor is designed for a home environment. When you use our treadmill, it's the same volume as the conversation, don't worry it will bother your family and neighbors. Safety Key connect you and the machine, emergency stop button on the handrail, which double protect you while working out.

SPACE SAVE DESIGN & IPAD/MOBILE PHONE HOLDER. Treadmill can be easy folded, with wheels it is easy for moving and storage. Put your mobile phone or Ipad on the holder, you can talk with your friends or watch movies when you work out on this treadmill.

QUALITY AFTER-SALES SERVICE. We offer you 100% risk-free satisfaction to let you buy with confidence. We are quite sure that you will be super-impressed with DURABILITY, PORTABILITY and HIGH QUALITY of our treadmill.
Using a treadmill for regular exercise offers numerous benefits for your physical health, fitness levels, and overall well-being. Here are three key benefits of using a treadmill:
Cardiovascular Fitness: Treadmill workouts are excellent for improving cardiovascular fitness. Running or walking on a treadmill raises your heart rate, increasing blood circulation and oxygen supply throughout your body. Consistent treadmill exercise can strengthen your heart, lower blood pressure, and improve your cardiovascular endurance over time. Regular aerobic exercise on a treadmill can also help reduce the risk of heart disease, stroke, and other cardiovascular conditions.

Weight Management and Calorie Burn: Treadmills are effective tools for weight management and calorie burn. Running or walking on a treadmill can significantly contribute to burning calories and maintaining a healthy weight. The intensity and duration of your treadmill workout determine the number of calories you burn. Regular treadmill exercise, combined with a balanced diet, can help create a calorie deficit, leading to weight loss or weight maintenance. Treadmills also offer various workout options, such as interval training or incline settings, which can further enhance calorie burn and fat loss.

Joint Health and Lower Impact: Treadmills offer a controlled and cushioned surface for running or walking, which can be gentler on your joints compared to outdoor surfaces like concrete or asphalt. The cushioned deck of a treadmill helps absorb the impact of your steps, reducing stress on your joints, particularly your knees and ankles. This makes treadmill workouts suitable for individuals with joint issues, arthritis, or those who prefer lower-impact exercise options. Additionally, many modern treadmills come with adjustable cushioning settings, allowing you to customize the level of impact absorption based on your comfort and needs.