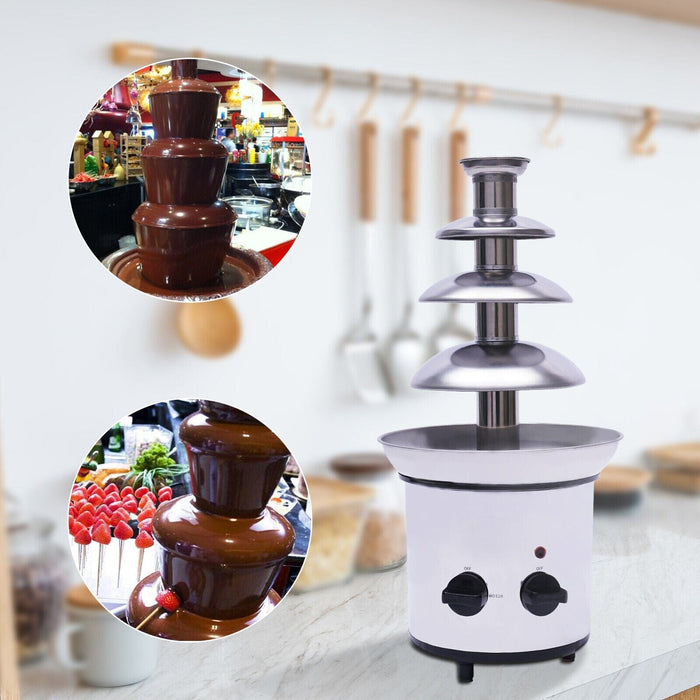 4 Tiers Commercial Stainless Steel Hot New Luxury Chocolate Fondue Fountain
Save

36

%
Save

36

%
Original price
$249.99
-
Original price
$249.99
Availability:
16 in stock, ready to be shipped
Product Description:
A chocolate fountain is a device for serving chocolate fondue. Typical examples resemble a stepped cone, standing with a crown at the top and stacked tiers over a basin at the bottom. The basin is heated to keep the chocolate in a liquid state so it can be pulled into a center cylinder then vertically transported to the top of the fountain by a corkscrew auger. This chocolate fountain can be used in shopping mall, hotel, western restaurant, wedding and graduation ceremony, company and birthday party, it can bring a relaxed and pleasant atmosphere.
Feature:
Brand new and fit for long time working

Constant temperature, heat stability

Easy to clean and easy to set up

Complete Sealing system

Product built to north American electrical standards
A chocolate fondue fountain is a popular appliance used for melting and cascading chocolate, allowing for an enjoyable and interactive dessert experience. Here are three key benefits of using a chocolate fondue fountain:
Entertaining and Interactive Experience: A chocolate fondue fountain adds a fun and interactive element to social gatherings, parties, or special occasions. It creates a visually appealing display as the melted chocolate flows down in a continuous stream. Guests can dip various food items, such as fruits, marshmallows, cookies, or pretzels, into the flowing chocolate, creating personalized and delicious treats. The interactive nature of a chocolate fondue fountain encourages conversation, engagement, and a sense of enjoyment among participants.

Versatile Dessert Option: A chocolate fondue fountain offers versatility in dessert options. You can use different types of chocolate, such as dark, milk, or white chocolate, to cater to different tastes and preferences. Additionally, you can experiment with various dippable items, including fruits like strawberries, bananas, or pineapple, or treats like marshmallows, pretzels, or biscotti. This versatility allows you to create a customizable dessert experience that suits different dietary preferences or themed events.

Easy to Use and Clean: Chocolate fondue fountains are designed to be user-friendly and require minimal preparation and cleanup. Most models feature a simple setup, involving melting the chocolate and pouring it into the fountain base. The fountain's heating mechanism keeps the chocolate at an ideal consistency for dipping throughout the event. After use, disassembling the fountain and cleaning the components is typically straightforward. Many parts are dishwasher-safe or can be easily hand-washed, ensuring a hassle-free cleanup process.
Specifications:
Material: Stainless steel

Voltage: 110V/60hz

Current: 0.51A

Power: 180W

Tiers: 4

Dimensions: 9"(D)x18"(H)

Chassis capacity: 1.8kg 

Chassis diameter (approx.): 21.5cm

The diameter of the four layers is about 15cm / 13cm / 11cm / 6cm.

The heating temperature is: 50°, (constant temperature 50°)
Package include: