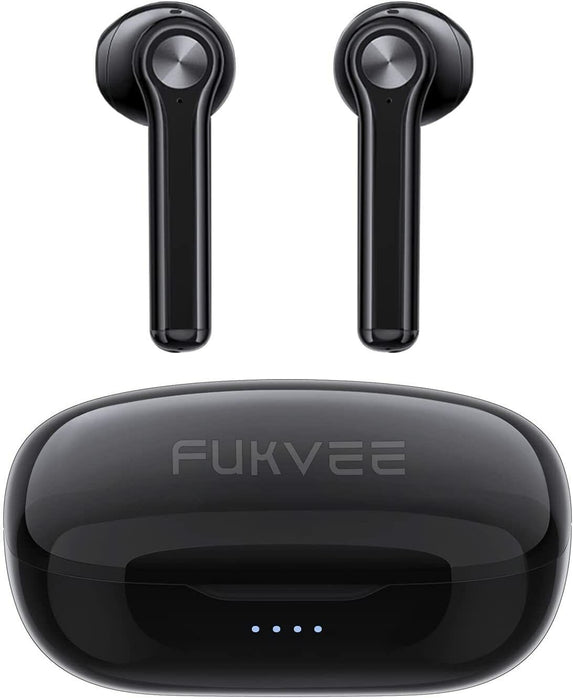 Bluetooth Headset 5.0 True Wireless Earphones Earbuds Headphones
Save

40

%
Save

40

%
Original price
$149.99
-
Original price
$149.99
Availability:
21 in stock, ready to be shipped
Product Description:
Four mic noise isolation: Each earbud is equipped with 2 microphones, together the 4 enhanced microphones provide noise-cancelling call technology to effectively block out 80% of background noise and make your voice 3 times clearer, to ensure you're heard on the other side. it can effectively block ambient noise as a way to bring about clear calling.
UP to 35 HOURS PLAYTIME: The Bluetooth earbuds offers up to 21H play time. A single charge using the provided USB-C charging cable gives you 3 hours of playtime after just 30 minutes of charging. The charging case can also be wirelessly charged by simply placing it on a wireless charger, providing a cable-free charging option.

INTUITIVE TOUCH CONTROL: With intuitive touchpad technology built into both wireless earbuds, you can effortlessly control your music, calls with a single finger press, freeing your hands from your smartphone. In-ear detection makes your music pauses when you remove either earbud, then starts again the second you put them back in
SINGLE EARBUD OPTION: Either earbud can be automatically paired to your device for independent use, giving you the flexibility to accommodate the task. Powered by latest Bluetooth 5.1 which dramatically enhances the stability and connection of the earbuds. When opening the carrying case lid, M1 wireless earbuds will power on automatically and pair to your Bluetooth-compatible device.

True wireless earbuds :Suitable for calls, music and videos. The Bluetooth wireless headset M1 can effectively reduce sound distortion and provide strong bass, allowing you to enjoy immersive sound effects, as if you are in a concert-closer to the music.
Bluetooth earbuds offer several benefits for users looking for wireless and convenient audio solutions. Here are three key benefits of using Bluetooth earbuds:
Wireless Convenience: One of the primary benefits of Bluetooth earbuds is the elimination of wires. With Bluetooth technology, you can enjoy music, podcasts, or calls without the hassle of tangled cords. The absence of wires provides freedom of movement, allowing you to listen to audio content while engaging in various activities like exercising, commuting, or working. Bluetooth earbuds offer a wireless and clutter-free experience, making them particularly useful for individuals who want a hassle-free audio solution on the go.

Portability and Ease of Use: Bluetooth earbuds are typically compact, lightweight, and easy to carry, making them highly portable. They can be easily stored in a pocket, bag, or carrying case, allowing you to bring them wherever you go. Pairing Bluetooth earbuds with your audio device, such as a smartphone or tablet, is generally a simple process, and many earbuds offer quick and automatic connection capabilities. Once paired, the earbuds can seamlessly connect to your device whenever they are within range, providing instant access to your favorite audio content. This ease of use and portability make Bluetooth earbuds a convenient and practical choice for everyday use.

Versatility and Compatibility: Bluetooth earbuds are compatible with a wide range of devices that support Bluetooth connectivity. This includes smartphones, tablets, laptops, smart TVs, and more. The versatility of Bluetooth earbuds allows you to use them with multiple devices, making it easy to switch between devices without needing separate headphones for each one. Additionally, Bluetooth earbuds often come with built-in controls for adjusting volume, skipping tracks, answering calls, and activating voice assistants like Siri or Google Assistant. This hands-free operation adds to the convenience and functionality of Bluetooth earbuds, allowing you to control your audio experience without needing to interact with your device directly.