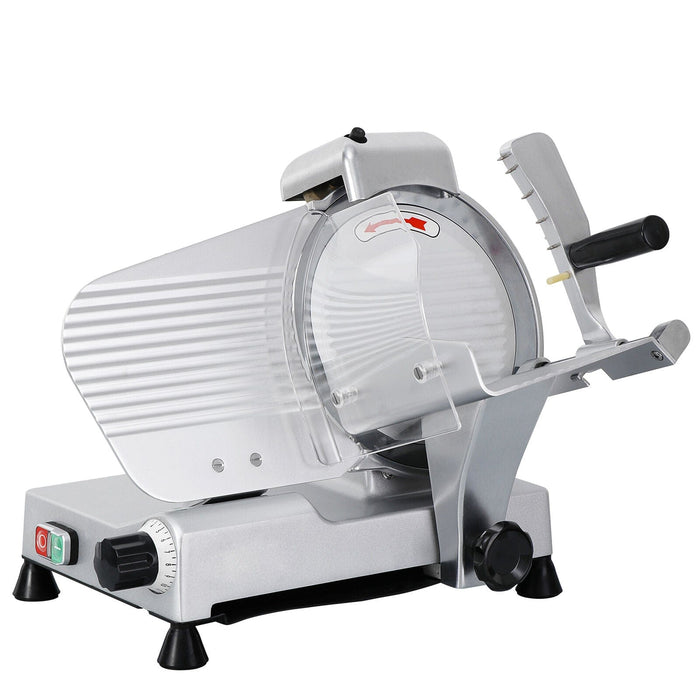 Commercial Electric 10" Blade Meat Slicer 240w 530 rpm Deli Food cutter
Save

24

%
Save

24

%
Original price
$699.99
-
Original price
$699.99
Availability:
15 in stock, ready to be shipped
This is a brand new 10" blade high-efficiency and energy-saving commercial meat slicer.The machine is made of high-quality stainless steel and is equipped with safe keeping device. It can slice massive boneless meat, including beef, mutton, venison, and also can slice cheese, ham, bread, vegetable, fruit and other food up to the 0-1/2" slices without breaking down the muscle fiber structure. This high power electric food slicer is designed for commercial use, suitable for restaurants, commercial kitchens, butcher shops, delis, farmers, hunters, or even the home cook who just wants the best.
Advantage:
1.Safe Operation:
a.ON-OFF switch with waterproof cover
b.Blade with cover for preventing from injuries
c.Dual whetstones with cover for safe use
2.High Efficiency:
a.Brand new top-quality 530 RPM meat slicer with dual baffle plates, more stable and convenient
b.Two baffle plates and the stainless steel fixed device with steel nails for fixing meat to slice
c.240 watts motor for slicing food in seconds
d.Fast slicing speed, 530 revolutions per minute
e.Save much more electricity than other 420w slicers with lower rotary speed
3.Durable Material:
a.High-quality stainless steel blade
b.High-quality stainless steel fixed device
c.Durable metal body, entire base and mechanisms
Features:
1.CE approved
2.Sharpening control buttons for controlling the whetstones to sharpen two sides of the blade easily
3.Convenient to adjust the precise thickness of meat from 0 to 1/2" with the numerical scale knob
4.Numerical scale knob makes the adjustable plate to move back and forth and adjust the thickness of meat
5.The adjustable plate fixed knob for fixing the adjustable plate
6.Stainless steel baffle plate and transparent plastic plate avoid meat falling off when slicing thicker meat
7.Two baffle plates and the stainless steel fixed device with steel nails for fixing meat to slice
8.Fixed device handle for pushing the fixed meat to slice
9.Moving handle and the fixed device handle compose of dual handles system to slice meat effortlessly
10.Big sliced meat exit behind the machine for sliced meat sliding out quickly
11.Heat output holes under the meat slicer to disperse heat
12.Skidproof rubber feet for table use
13.Easy to clean and maintenance
14.Low noise level
Specification:
Power: 110V, 240W 1/3HP
Blade Diameter: 10"
Rotary Speed: 530 RPM
Material: Durable Stainless Steel Blade & Fixed Device
Overall Dimension: 19" x 18-7/10" x 16-1/2"
Approximate Maximum Slicing Thickness: 1/2" (13 mm)
Package Lists:
1x Meat Slicer Machine
2x Whetstones(one rough, one less rough)
1x Instruction Manual
Note:
For safty purpose, please read the instruction before using. This is a professional meat slicer for boneless meat. It also can slice some cheese, please make sure keep your cheese in cold storage before slicing. Otherwise, it may stick to blade when it turns soft and won't be able to be sliced.