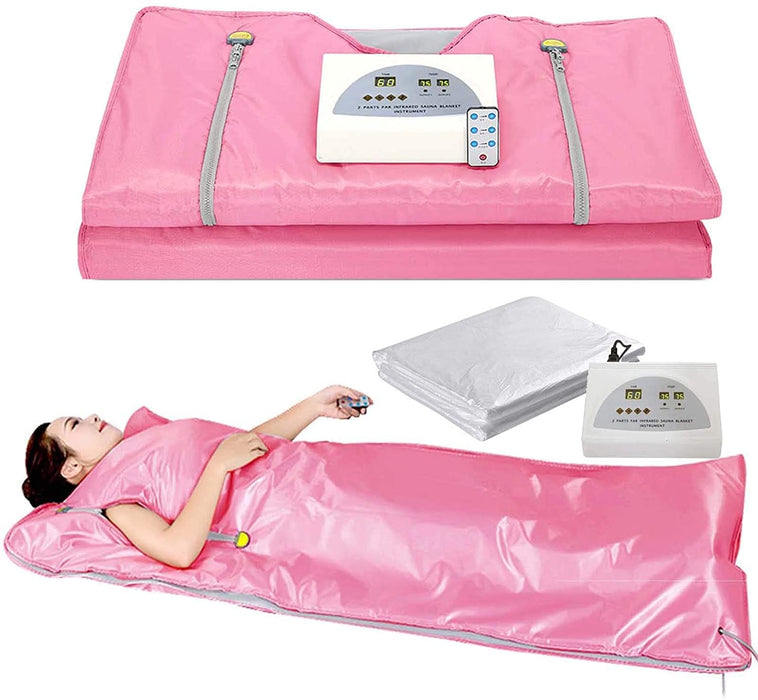 Digital Controller Spa Beauty Far Infrared Sauna Blanket 2 Zone Slimming Weight
Save

38

%
Save

38

%
Original price
$399.99
-
Original price
$399.99
Availability:
18 in stock, ready to be shipped
Principle
Note, There is no button battery in the remote control, please purchased by yourself. Heat Sauna Blanket with Infrared Heat ng Therapy-Using the unique penetrating power of the body, it can absorb far infrared rays. When these rays penetrates the skin, the deep thermal effects of the subcutaneous tissue cause blood vessels and capillaries to dilate, thus promoting better blood circulation and helping to get rid of body toxins and metabolic waste.


Environmental Material
Outside are top grade Oxford Cloth material, inside are waterproof PVC with flexible tensile capabilities even in various sleeping position, temperature adjustable from 95℉ to 167℉, time setting from 15 to 60 min. Infrared dry heating, 2 zone-temperature control.

Multi-Function
This deeply relaxing treatment is also great for stress relief score joints and stiff muscles you will leave invigorated renewed if you are looking for instant detox pain relief or you just want to drop a dress size. Recovering therapy for shoulder, hip and waist, back and legs.

Use Tips
To avoid the blankets from sticking together, you have to smooth out the blanket when it is heating, do not fold the blanket until it cools, and do not set the temperature too high or turn it on for a long time.


Warranty
Pregnant women, hypertension more than 180, severe heart disease and other major diseases are strictly prohibited. Suggestions can be worn thin cotton pajamas or bathroom bags to collect sweat, can also use bath towels, clean up with wet cloth twisted dry wipe; in the use process, folding and heavy pressure heating is strictly prohibited, do not put on the bed or sofa and other heat storage places to use, blankets can be arbitrarily folded after cooling.

Operation:
1.Roll out the sauna blanket and connect two wires of it with the output of the mainframe;
2.Let the client lie on the blanket and then start the operation;
3.Put through the electrical source and open the switch;
4.Press the button setting to choose the time option and set the working time of the machine;
5.Press setting button ,when the Temp 1 flashes, please press button time up and button time down to set the output temperature of OUTPUT 1, after setting the machine it can conserve the numerical value automatically;
6.Press setting button again, when the Temp 2 flashes, please press the button time up and button time down to set the output temperature of OUTPUT 2, after setting the machine it can conserve the numerical value automatically;
7.After setting the working time and output temperature, please press "S/P" button to start the machine;
8.After using, shut off the machine and cut off the electrical source;
9.Cleaning the blanket and keep it on the dry place.

Specifications:
Color: Orange/Pink/Purple
Material: Outside oxford cloth, inside PVC
Power:650w
Frequency:50HZ-60Hz
Voltage:110V

Package Includes:
1 set mainframe
1 X pc power wire
1 X blanket
2 X fuse