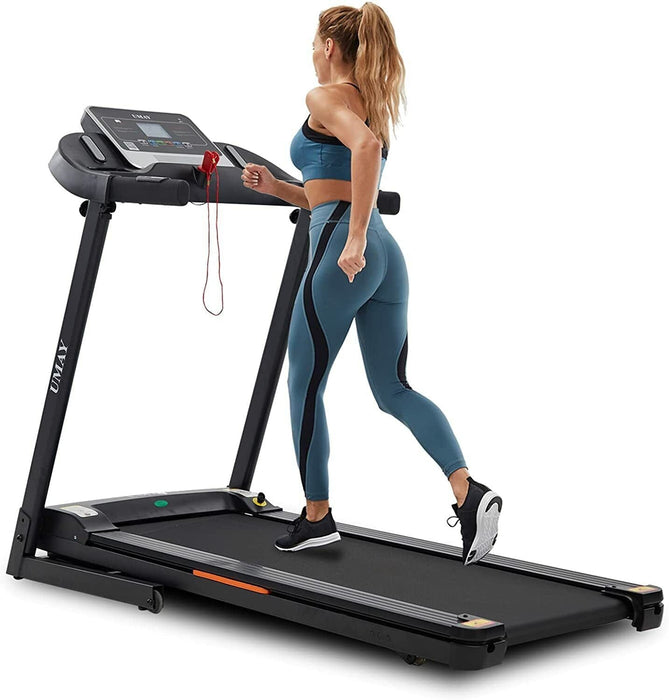 Folding Electric Treadmill 2.5 HP Motorized Power Incline Running Machine Home
Save

25

%
Save

25

%
Original price
$799.99
-
Original price
$799.99
Availability:
15 in stock, ready to be shipped
[MULTIFUNCTIONAL DISPLAY & QUIET MOTOR]
Portable
treadmill with 4 inch LCD display tracks your speed, pulse, time, distance, and calories.
2.0
HP motor allows for 1-14 KM/H speed range, and the noise is less than 50dB without disturbing others.
[SAFE PROTECTION & MANUAL INCLINE]
The weight capacity of foldable treadmill can be reached as 220lbs and you can be protected by the safety key.
It can also be a incline treadmill, just need you to adjust the folding wheels manually.
[PULSE MONITOR & CUP HOLDER]
Pulse monitor and quick speed control buttons on the handrails can change the exercise intensity according to your real-time physical state.
2 cup holders allow you to replenish water in time and store phones while using workout machine.
[FOLDABLE DESIGN & TRANSPORT WHEELS]
Treadmills for home folding can save more space when not in use. The transport wheels help you to move it effortlessly,
which means any place at home can be a gym.

 
It must be one of the best home gym machines.
[BLUETOOTH SPEAKER & MP3]
Open Bluetooth, match the cardio machine, then enjoy music. The built-in speaker brings more fun to your fitness experience.
Doing exercise at home is no longer a boring thing when you get this running machine.
Powerful & Quiet Motor
The 2.0 HP( Peak HP 2.5) powerful low-noise motor is specially designed for the home environment and the noise is less than 50dB without disturbing others.
Fast Control Handle
Press the button on the handle to START/STOP at any moment and quickly adjust the SPEED up to 8.7 MPH (14 KM/H). Good for running & jogging & walking.
2 Manual Incline Positions
2 different inclines available by easily adjusting the wheels manually to get different exercise intensity.
The treadmill is designed for the family environment, which are developed on the basis of your needs and comfort. Easily read and track the real-time data including Time, Speed, Pulse, Distance, Calories, and body fat. In addition, with the hydraulic rod, this home gym equipment can be folding easily, perfect for SMALL SPACE.
Come on, choose it and you will have a healthy lifestyle!
Using a treadmill for regular exercise offers numerous benefits for your physical health, fitness levels, and overall well-being. Here are three key benefits of using a treadmill:
Cardiovascular Fitness: Treadmill workouts are excellent for improving cardiovascular fitness. Running or walking on a treadmill raises your heart rate, increasing blood circulation and oxygen supply throughout your body. Consistent treadmill exercise can strengthen your heart, lower blood pressure, and improve your cardiovascular endurance over time. Regular aerobic exercise on a treadmill can also help reduce the risk of heart disease, stroke, and other cardiovascular conditions.

Weight Management and Calorie Burn: Treadmills are effective tools for weight management and calorie burn. Running or walking on a treadmill can significantly contribute to burning calories and maintaining a healthy weight. The intensity and duration of your treadmill workout determine the number of calories you burn. Regular treadmill exercise, combined with a balanced diet, can help create a calorie deficit, leading to weight loss or weight maintenance. Treadmills also offer various workout options, such as interval training or incline settings, which can further enhance calorie burn and fat loss.

Joint Health and Lower Impact: Treadmills offer a controlled and cushioned surface for running or walking, which can be gentler on your joints compared to outdoor surfaces like concrete or asphalt. The cushioned deck of a treadmill helps absorb the impact of your steps, reducing stress on your joints, particularly your knees and ankles. This makes treadmill workouts suitable for individuals with joint issues, arthritis, or those who prefer lower-impact exercise options. Additionally, many modern treadmills come with adjustable cushioning settings, allowing you to customize the level of impact absorption based on your comfort and needs.