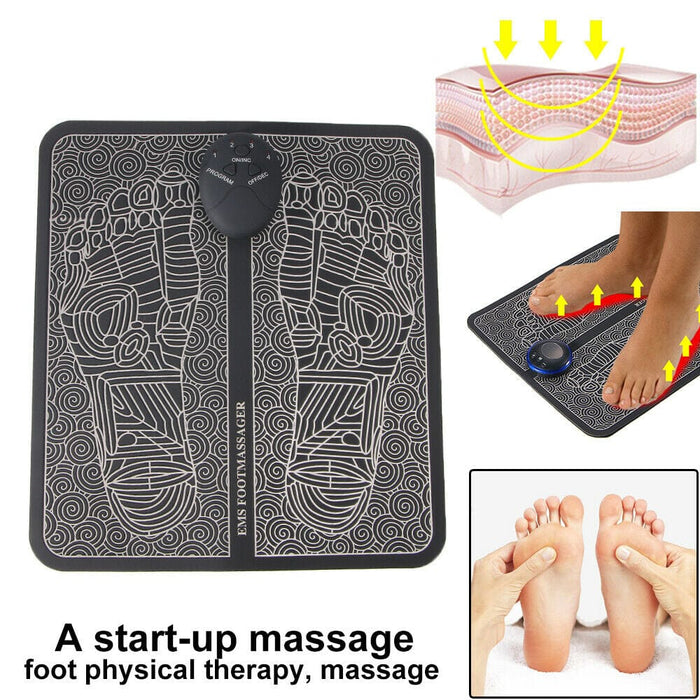 Foot Massager Leg Reshaping Electric Deep Kneading Muscle Pain
Save

40

%
Save

40

%
Original price
$99.99
-
Original price
$99.99
Availability:
18 in stock, ready to be shipped
This foot massager offers different treatment modes and intensity for your soles and body. Use low frequency pulse technology (EPS / EMS) for foot, ankle, Achilles tendon and calf muscle massage, and to promote blood circulation and relax the feet.
Using a foot massager can provide several benefits for your overall well-being and foot health. Here are three key benefits of using a foot massager:
Relaxation and Stress Relief: Foot massagers are designed to provide relaxation and help relieve stress. They use various techniques, such as rolling, kneading, shiatsu, or air compression, to stimulate the muscles and tissues in your feet. The rhythmic movements and pressure applied during a foot massage can promote relaxation, reduce muscle tension, and alleviate stress. This can contribute to an overall sense of calmness and well-being, helping you unwind after a long day or during moments of fatigue.

Improved Circulation: Foot massagers can help improve blood circulation in your feet and lower legs. The massaging action stimulates the blood vessels, promoting better blood flow and oxygenation to the tissues. Enhanced circulation can benefit individuals with conditions like diabetes, neuropathy, or poor circulation, as it helps deliver nutrients to the tissues, reduce swelling, and alleviate discomfort. Improved circulation can also help relieve symptoms of tired and achy feet, as well as prevent conditions like varicose veins or blood clots.

Alleviation of Foot Pain and Discomfort: Regular use of a foot massager can help alleviate various foot conditions and discomfort. It can provide relief from conditions like plantar fasciitis, heel pain, arch pain, or foot fatigue. The massaging action can help loosen tight muscles, reduce inflammation, and increase flexibility in the feet. It can also help alleviate pain caused by standing or walking for long periods, providing temporary relief and relaxation. Additionally, a foot massager can help improve the range of motion in your feet, making them feel more comfortable and flexible.
9 levels of adjustable intensity and 6 vibration modes directly stimulate the acupuncture points, it helps to relieve soreness quickly, slow down physical and mental fatigue, improve sleeping. 15 minutes is a course of treatment, when time is due, it is automatically shut off.
1. Connect this product to the floor mat.
2. Installed.
3. Put your feet on the floor mats.
4. Power on, please press and hold the power button for about 2 seconds; the power on light is green.
5. Adjust the mode and intensity you need. If you want to turn off the power in the middle, please press and hold the power switch for about 2 seconds.
It is made of soft yoga mat material, it can be try with a wet towel after use. It can be used when watching TV, reading, working in the office or relaxing. Suitable for all foot types and different foot sizes.

Different from any traditional heavy foot massager. It is lightweight, foldable, easy to carry anywhere. You can have a little relaxation wherever you go.
The + button is to start the device, the more you press it the harder the vibration becomes. The – button is to turn the device off and reduces the vibration on each press. Press till all the vibration is off to turn the device off. The M button is to change the massage mode, which is indicated with the Chinese characters. Each mode massages a different part of the feat, all the modes should cover all the essential parts of your feet.
Package Contains:
1*foot massage cushion
1*USB cable
1*User manual