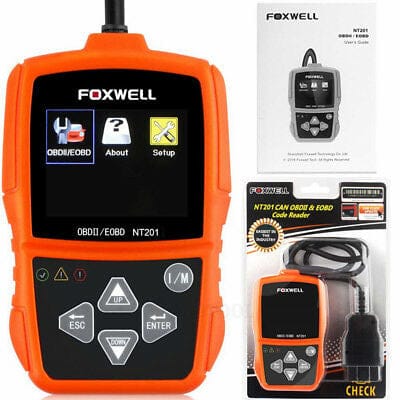 Foxwell OBD2 Automotive Scanner Code Reader Engine Light Check EVAP Diagnostic
Save

45

%
Save

45

%
Original price
$199.99
-
Original price
$199.99
Availability:
15 in stock, ready to be shipped
1. Features the unique patented One-Click I/M Readiness Key for quick State Emissions readiness check and drive cycle verification

2. Bright color coded LEDs and built in speaker provide both visual and audible indication for readiness verification

3. Retrieves generic (P0, P2, P3, and U0), manufacturer specific (P1, P3, and U1) codes, and pending codes

4. Easily determines the cause of the Malfunction Indicator Light( MIL)

5. Turns off Malfunction Indicator Light (MIL), clears codes and resets monitors

6. Displays DTC definitions on the TFT color screen

7. Views freeze frame data

8. Displays monitor and I/M readiness status (emissions)

9. Reads live PCM DataStream

10. Retrieves vehicle information(VIN, CIN and CVN)

11. Multilingual menu and DTC definitions

12. Extremely easy to use and highly reliable

13. Internet updateable and upgradeable
14.Supported Protocols: J1859-41.6, J1850-10.4, ISO9141, KWP2000 (ISO 14230), and CAN (Control Area Network ISO 11898).
Foxwall NT201 Features and Functions:
FOXWELL NT201 Code Scanner offers accurate and effective functionality in terms of reading and clearing diagnostic trouble codes along with any other error readiness monitors, allow you to figure out what's causing your engine's issues so that you're better prepared to face the problem and fix it either at home or at some professional mechanic shop.
The NT201 New Version automotive scanner from Foxwell is a useful car sensor reader for entry-level pro and savvy DIYer that they can quickly and efficiently troubleshoot CAN/OBDII/EOBD problems on most vehicles sold in the USA with model year of 1996 or newer that are equipped with 16pin port.
I/M Readiness is to test Misfire/Fuel system/Comprehensive component.

On-Board Monitor Test can be utilized to read and results of on-board diagnostic monitoring, testing for specific components/syestems.

EVAP System Test let you initiate a leak of test for the vehicle's EVAP system.

O2 Sensor Test allows retrieval and viewing of O2 sensor monitor test result for the most recently performed test from the vehicle's on-board computer.

Review the recorded DTC, read hard (memory) / pending (intermittent) and historic codes and show definitions.

View Stream Data and Freeze Frame, see the live data by graph or chart.

Vehicle Info will display the information such as VIN(Vehicle Identification Number), CID(Calibration ID) and CVN(Calibration Verification Number).
Languages:English, French, Spanish, Swedish ,Portuguese, Dutch, German, Hungarian, Italian
1.ONE CLICK I/M READINESS for EMISSION TEST
Red-Yellow-Green LEDs and build-in speaker indicate emissions monitor status. This diagnostic tool can also help catch intermittent problems or confirm repairs during a drive cycle. 
2.Automatic VIN acquisition and decoding makes it much easier to read manufacturer specific codes and enhanced mode 6 data 
3.NT201 does not only read and clear engine system faults, it also shows live vehicle sensor data in text and graph format and allows you to focus on any suspicious or symptom-specific data parameters.
4.It reads freeze frame data, which allows engine conditions such as fuel trim, engine coolant temp, etc., at the time the malfunction indicator lamp was set.
Support Cars:
1. America Car List: (include Brazil)
Need standard obd2 , and release from 1996 to now
Fit for Chrysler ,Fit for Ford ,Fit for GM ,Fit for Jeep
2. Europe Car List:
Need standard obd2 , and release from 2000 to now
Fit for Alfa Romeo ,Fit for SAAB ,Fit for Acura ,Fit for Opel, Fit for Audi ,Fit for Seat ,Fit for Peugeot ,
Fit for Bentley ,Fit for Skoda ,Fit for Daewoo, Fit for Benz ,Fit for Daihatsu ,Fit for Land Rover
Fit for BMW ,Fit for Vauxhall ,Fit for Citroen, Fit for Volvo ,Fit for Fiat ,Fit for VW ,Fit for Ford ,Fit for Jaguar
3. Asia Car List: (include Australia)
Japanese car Need standard obd2 , and release from 2005 to now
Fit for KIA ,Fit for Isuzu ,Fit for Honda ,Fit for Mitsubishi, Fit for Hyundai ,Fit for Dacia ,Fit for Lexus ,Fit for Mazda
Fit for Nissan ,Fit for Subaru ,Fit for Suzuki, Fit for Toyota
Notice : No scanner can work for all cars, If the device does not fit for your car , please try to test on another newly car.
Foxwell NT201 Support Free Update Lifetime::
Step 1 : Download the update tool from foxwell official website , Connect the NT201 to PC and login in foxwell program , the device will be automatically detected.
Step 2 : You can go to setting , to select the language of your software package.
Step 3 : Click online update, it will download the software, then click on Offline update, you may install the patch.
( you also can use the update program to change the language version.)
NT201 Specifications:
Display: 2.4" TFT color screen
Operating Temperature: 0 to 60°C (32 to 140°F)
Storage Tempeature: -20 to 70°C (-4 to 158°F)
Power: 8 to 18 V provided via vehicle
Package  Included:

1 x NT201 OBDII/EOBD Code Reader
1 x NT201 User's Guide
1 x USB cable
1 x Software CD