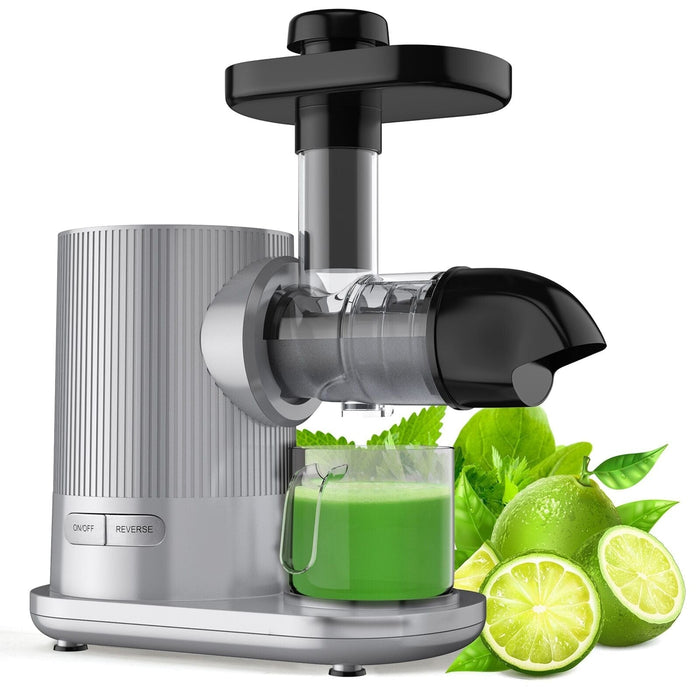 Horizontal Juicer Machine Cold Press Slow Masticating Juice Extractor Silver
Save

20

%
Save

20

%
Original price
$249.99
-
Original price
$249.99
Availability:
15 in stock, ready to be shipped
Make yourself a cup of clear, foamless juice of maximum nourishing and minimal oxidative with our cold press juicer machine. Extract 95% of the juice with a strong copper motor, high efficiency and low noise indeed. This juicer machine is also brilliant in daily cleaning. Not only has one-press disassembly and a reverse function, but all parts are dishwasher safe. It is easy to use with simple buttons and safe to operate with over-heating protection. It is ideal to use in extracting beets, cabbages, carrots, and so on. Our slow masticating juicer promises you and your family a cup of mouth-watering juice every day!


Features:

Effectively squeeze nourishing and less-oxidative juice at a low speed of 90 RPM

95% of Juice yield guaranteed with high purity, less foaming

Food-grade level material, safe and healthy to use

Simplified operation with on/off/ reverse button

A quiet copper motor with a long life span

Color: Silver

Product Dimension: 13.5" x 7" x 15" (L x W x H)

Cord Length: 41.5"

Net Weight: 8 lbs

Related Voltage: 110-120V

Related Power: 150W

Related Frequency: 60 Hz

Speed: 90 RPM

Noise: <60 dB

Continuous Working Time: ≤20 minutes
Using a juicer machine offers several benefits for individuals looking to incorporate fresh juices into their diet. Here are three key benefits of using a juicer machine:
Nutrient-Rich Juices: Juicer machines extract the juice from fruits and vegetables, allowing you to consume a concentrated dose of essential vitamins, minerals, and antioxidants. Freshly juiced fruits and vegetables are packed with nutrients that can contribute to overall health and well-being. Juicing enables you to consume a wide variety of fruits and vegetables in an easily digestible form, providing your body with a diverse range of nutrients that may be lacking in your regular diet. Juices can be particularly beneficial for individuals who struggle to consume an adequate amount of fruits and vegetables through traditional means.

Enhanced Hydration: Juices extracted from fresh produce are hydrating and can help you maintain proper hydration levels. The juicing process removes the fibrous pulp, leaving behind a liquid that is easier and quicker to absorb. This can be especially beneficial during hot weather or after exercise when hydration is crucial. By incorporating fresh juices into your daily routine, you can increase your fluid intake and support optimal hydration, which is essential for numerous bodily functions.

Increased Intake of Fruits and Vegetables: Juicing is an excellent way to increase your consumption of fruits and vegetables. Many individuals find it challenging to eat the recommended servings of fruits and vegetables each day. Juicer machines make it easier to incorporate a variety of produce into your diet by creating flavorful and nutrient-dense juices. You can experiment with different fruit and vegetable combinations, tailoring the flavors to your preferences. By consuming fresh juices regularly, you can bridge the gap in your daily fruit and vegetable intake and ensure you're getting a wide range of essential nutrients.
Package Includes:
1 x Juicer Machine

1 x Juice Cup

1 x Pulp Cup

1 x Brush

1 x Instruction