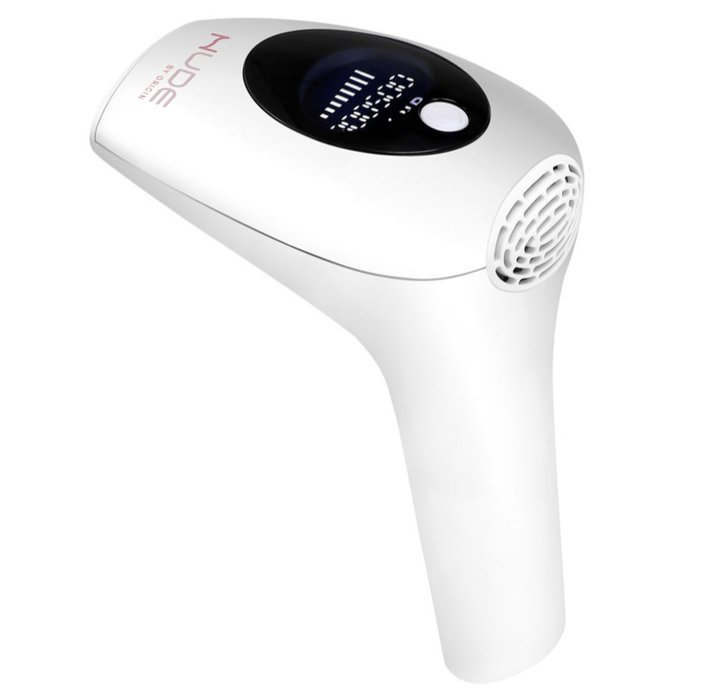 Laser IPL Permanent Hair Removal Machine Face Body Skin Epilator
Save

35

%
Save

35

%
Original price
$199.99
-
Original price
$199.99
Availability:
23 in stock, ready to be shipped
Professional laser Epilator, Ideal for full body hair removal, including arms, underarms, bikini line, legs, back and chest.
Painless: gently treats all zones of the body, whitening and caring your skin
The flash cartridge can be used 900000 times.
Laser IPL (Intense Pulsed Light) permanent hair removal offers several benefits compared to traditional hair removal methods. Here are three key benefits:
Long-term Hair Reduction: Laser IPL technology targets the hair follicles directly, delivering pulses of light energy that are absorbed by the pigment in the hair. This process damages the follicle, inhibiting future hair growth. Over time, with multiple sessions, laser IPL can result in long-term hair reduction. Unlike temporary methods such as shaving or waxing, laser IPL can provide a significant reduction in hair growth, leading to smoother skin for an extended period.

Precision and Efficiency: Laser IPL technology allows for precise targeting of the hair follicles, selectively treating unwanted hair while leaving the surrounding skin unharmed. The treatment area can vary depending on the device, but it typically covers a larger surface area compared to traditional hair removal methods like electrolysis. This makes laser IPL more time-efficient, as it can treat larger areas in a shorter amount of time. Additionally, the procedure is relatively quick, making it a convenient option for individuals with busy schedules.

Reduced Ingrown Hairs and Skin Irritation: Laser IPL hair removal can help reduce the occurrence of ingrown hairs and skin irritation that are common with methods like shaving or waxing. Since the treatment targets the hair follicles beneath the skin's surface, it can disrupt the growth of new hairs, minimizing the chances of ingrown hairs. Additionally, laser IPL eliminates the need for repetitive shaving or waxing, which can cause skin irritation, redness, and razor burns. This makes it a more comfortable and gentle option for individuals with sensitive skin.
8 modes can be adjustable for different needs.
Two flash modes design can satisfy your demands on different hair removal parts: the manual mode is mainly used for small areas, such as bikini lines, fingers, lips; and the automatic mode can be used for large areas, such as arms, legs, chest and back.
Quick, painless and almost permanent hair removal, Permanent and safe Depilatory at home.
Mini size is portable to carry anywhere and anytime.
Suitable for both professional beauty and personal use at home.
 Product Features:
Plug type: US
Irradiation times: 900,000
Mode: 8 modes
Material: ABS
Power:36W
Input: AC 100V-240V 50/60Hz
Voltage: 12V 3A
Irradiation Area: 4.2cm²
Hair removal Area: whole body
Cleaning Type: Waterless

1 Year Manufacture Warranty 
Package Included:
1 x Hair Removal Device(White)
1 x Adapter
1 x Shaving Cutter
1 x UV Glasses
1 x User Manual