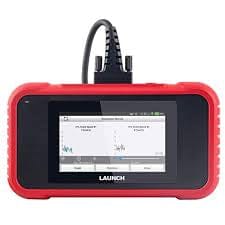 Launch CRP129X CRP129E OBD2 Scanner Engine ABS SRS SAS TPMS EPB Diagnostic Tool
Save

15

%
Save

15

%
Original price
$529.99
-
Original price
$529.99
Availability:
20 in stock, ready to be shipped
Product Description:
4 System Diagnostic
Transmission:
Tests the Automatic Transmission (AT) which is a type of motor vehicle transmission that can automatically change gear ratios as the vehicle moves, freeing the driver from having to shift gears manually.
Engine:
Easily determines the cause of Check Engine Light, and turn off the warning light.
Airbag System
Retrieves and clears codes in Supplemental Restraint System (SRS), and turn off the warning light.
ABS:
Performs various bi-directional tests to check the operating conditions of Anti-lock Braking System (ABS), and turn off the warning light
Three Special Functions
Oil Maintenance Reset:
This function allows you to perform reset for the Engine Oil Life system, which calculates an optimal oil life change interval depend on the vehicle driving conditions and climate, and to turn off the warning light. The Oil Life Reminder must be reset every time the oil is changed, so the system can calculate when the next oil change is required.
EPB Reset:
Reads and clears Electronic Parking Brake (EPB) trouble codes and turns off the ECU and brake warning light. If the brake pad wears the brake pad sense line, the brake pad sense line will send a signal sense line to the on-board computer to replace the brake pad. After replacing the brake pad, you need to reset the brake pad to clear the car alarms.
SAS Reset:
Calibrates the Steering Angle Sensor (SAS) after the replacement. The steering angle sensor is a critical part that measures the steering wheel position angle and rate of turn. The SAS requires a reset to ensure proper calibration for adjusted alignment at any time for any reason.
Full OBD2 Functions
1.Live Data: Shows the information of continuous data stream from vehicle in live graphic (waveform) display.
2. Freeze Frame: Checks the certain vehicle conditions which are recorded by the on-board computer at the time the emission-related fault occurs.
3. O2 Sensor Test: Shows the last results of O2 sensor test in graphic display for troubleshooting.
4. On-Board Monitor Test: Reads the results of on-board diagnostic monitoring tests for specific components/systems.
5. DTCs Read & Clear: Shows the detailed description of the current Diagnostic Trouble Code (DTC) and clears/resets the diagnostic information.
6. Read Vehicle Information: Displays the information such as VIN (Vehicle identification Number), CID (Calibration ID) and CVN (Calibration verification number), etc.
7. I/M Status: Shows whether the various emissions-related systems on the vehicle are operating properly and are ready for inspection and maintenance testing. And much more....
Supported Language
English/ French/ Spanish/ German/ Russian/ Japanese/ Portuguese