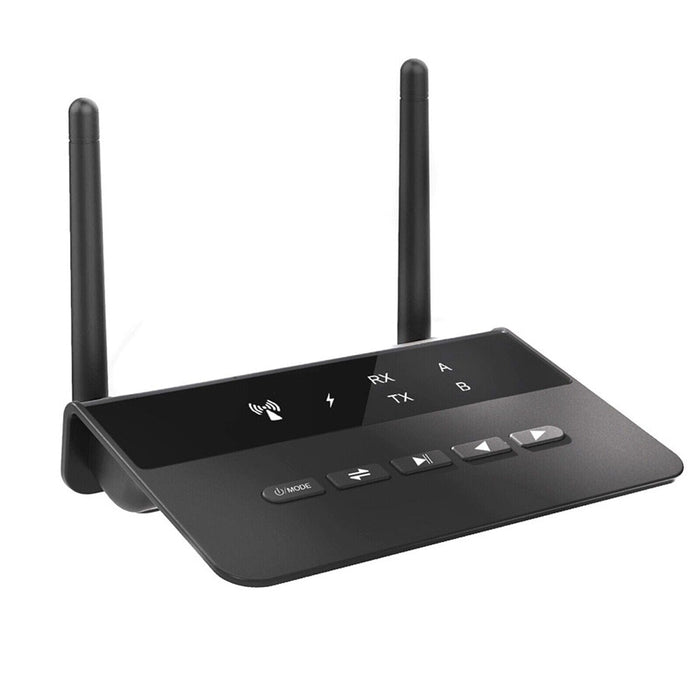 Long Range Bluetooth 5.0 Transmitter Receiver HD
Save

40

%
Save

40

%
Original price
$149.99
-
Original price
$149.99
Availability:
10 in stock, ready to be shipped
Product Description:
Bluetooth 5.0 receiver and transmitter
-Power class I II
-Distortion ≤0.1%
-Support dual stream (TX mode) support (transmitter connected-connect to two Bluetooth speakers or headphones at the same time to use the codec, up to APTX LL)
-Support multipoint (RX mode) support (connect two mobile phones)
-Codec method TX: apt-X LL, apt-X, SBC, FS;
--RX: apt-X LL, apt-X, SBC, AAC, FS;
--APTX instruction to support apt-X LL codec first in single connection (connected device must also support apt-X LL)
-Built-in battery 500MAH
-Charging current is about 350MA
-Charging time is about 2.5h
-Battery life RX> 10H, TX> 8H
-Bluetooth distance ﹥ 80M (straight line barrier-free)
-Charging method Micro USB 5V / 0.5A
-Input/output connection mode RCA interface, I2S AUX interface, -Support RCA, AUX dual simultaneous output
-Compatible Android, IOS system mobile phones and PAD, as well as Bluetooth speakers or earphones supporting A2DP protocol have been connected for use
Feature:
◆The appearance of the product is exquisite and fashionable
◆Using CSR high-end chip design
◆One key switch between receiving and sending mode
◆RCA, I2S audio input/output interface, can be switched freely
◆Bluetooth working distance> 80M, strong stability
◆High fidelity, lossless sound quality, ultra-low delay sound output. Support apt-X LL, apt-X, SBC, AAC, FS
◆Built-in 500MA battery, long battery life.
◆When the battery power is less than 20%, the battery power will be insufficient. The product will automatically enter sleep energy saving mode after 6 minutes without connection in RX and TX modes, and has its own battery protection IC, which is safe and reliable when charging.
◆Support dual current support dual current (TX mode) transmission can connect two Bluetooth audio devices
◆Receiving (RX) can connect two devices at the same time, any two mobile phones, tablet computers, notebook devices, you can press the up and down buttons to control the volume when playing songs
◆Automatically return in receiving mode and sending mode, and have storage product connection function
◆The product connection is simple, no need for cumbersome driver download APP;

Package includes:
1 Bluetooth 5.0 transmitter receiver
1 * USB cable
1 * AUX cable
1 * RCA cable
1 *User Manual
1 *color packaging
❤Tips:
If the transmission distance is not far enough for you, please try to add another this item to enhance the Bluetooth signal and increase the transmission distance. However, we recommend using only two this item at most. Due to the strength of the Bluetooth signal itself, even if you use three or more of this item, the Bluetooth signal cannot continue to be expanded.