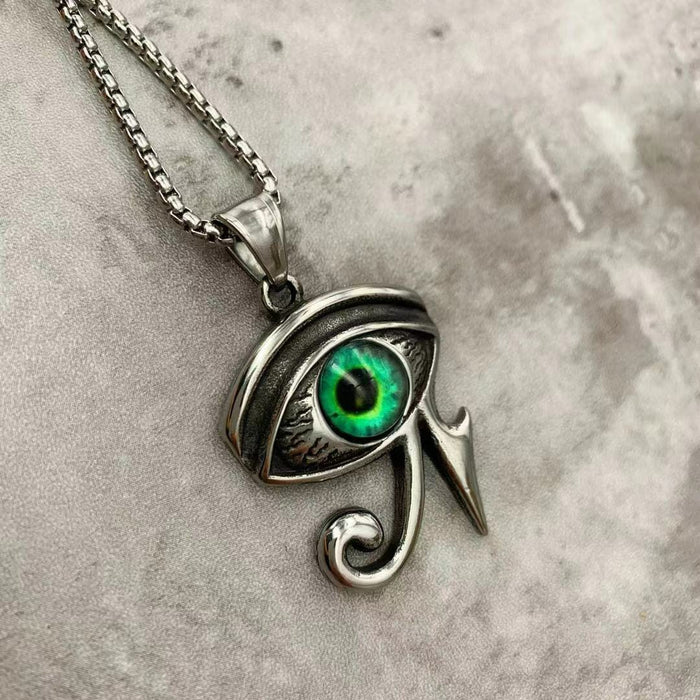 MOYON Egyptian Pyramid Evil Eye of Horus Ra Pendant Necklace Stainless Steel
Save

31

%
Save

31

%
Original price
$79.99
-
Original price
$79.99
Availability:
22 in stock, ready to be shipped
Brand: MOYON

Metal (Pendant): 316L Stainless Steel

Metal (Chain): 316L Stainless Steel

Pendant Size: 33mm(H) x 28mm(W)

Chain length: 24"

Total Weight: 19g
Package include

1 x necklace

1 x flannelette bag
Ra or Re is the ancient Egyptian deity of the sun. By the Fifth Dynasty in the 25th and 24th centuries BC, he had become one of the most important gods in ancient Egyptian religion, identified primarily with the noon sun. Ra was believed to rule in all parts of the created world: the sky, the Earth, and the under world. Ra was portrayed as a falcon and shared characteristics with the sky god Horus. At times the two deities were merged as Ra-Horakhty, "Ra, who is Horus of the Two Horizons". In the New Kingdom, when the god Amun rose to prominence he was fused with Ra into Amun-Ra.
The cult of the Mnevisbull, an embodiment of Ra, had its center in Heliopolis and there was a formal burial ground for the sacrificed bulls north of the city .All forms of life were believed to have been created by Ra. In some accounts humans were created from Ra's tears and sweat, hence the Egyptians call themselves the "Cattle of Ra". In the myth of the Celestial Cow it is recounted how mankind plotted against Ra and how he sent his eye as the goddess Sekhmet to punish them.