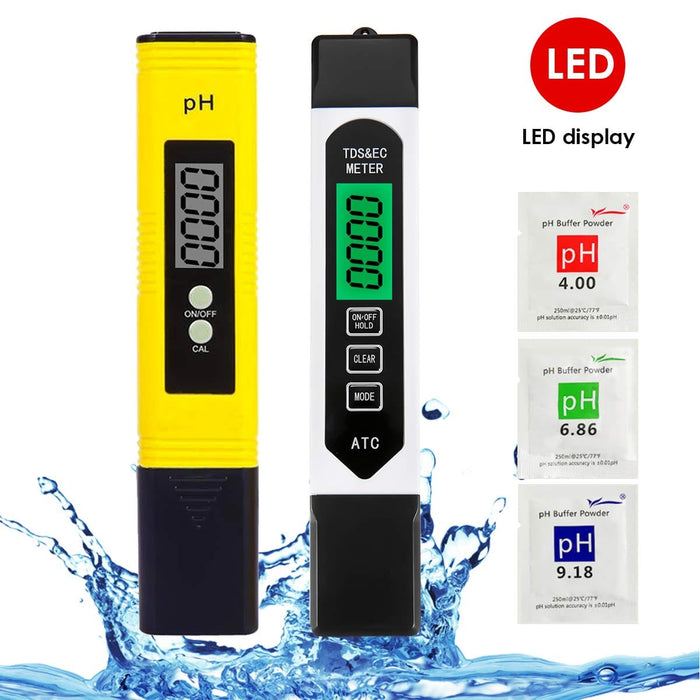 Portable Digital pH Meter/TDS Water Quality Tester
Save

35

%
Save

35

%
Original price
$84.99
-
Original price
$84.99
Availability:
28 in stock, ready to be shipped
Product Description:
Pen type digital PH meter
LCD indicator panel
Power on / off power switch
Small size, light weight, easy to carry
For a wide range of applications, such as aquariums, farms, food processing, photography, laboratory, quality control and pool
Specification:
Model: PH-2011
Material: ABS
Color: Yellow
Dimensions: 151 * 33 * 20mm
Screen size: 19 * 12mm
Weight: 60g (with battery)
Range: 0.0~14.0PH
Resolution: 0.1PH
Accuracy: ± 0.1PH
Battery: 4 × 1.5V (AG-13)
Temperature Compensation: 0 ℃ ~50 ℃
Operating temperature: 0 ℃ ~50 ℃
Note:
1. When you start measuring the product can not be zero, the number of beats is normal, simply check measurements show stable value.
2. Please read before the product manual (operation method and correction method)
Package Included:
1x PH tester
1x Built LR44 batteries
1x Flathead screwdriver
2X PH Buffer Powder
Use step:
1. Please unplug the electrode protective sleeve before use.
2. Press the switch ,place the electrode into the test solution.
3. After the numerically stable. press the HOLD button and take it of the solution to read.
4. After reading, turn off the meter. Wipe clean the electrode before sleeking it.
Instrument features:
1. Lock function: easy to read and record, the instrument will lock the reading.
2. 5-minute auto shut off feature, battery won't run off
3. Measurement Range:Conductivity:0-9999ppm
TDS:0-9999ppm
Degrees Celsius:0.1-80.0°C
F:32.0-176.0°F
Accuracy: ± 2% NW:55g Size:154*30*14(mm)
Shift between TDS&Conductivity
The factory default EDS date, if the conductivity date of the solution is needed, please touch the SHIFT button, the instrument automatically shifted.
Automatic temperature compensation
The instrument with automatic temperature compensation function under measurement mode.
Temperature shift:
Continuous touch the SHIFT button twice, degree Celsius and degree Fahrenheit conversed, the factory default degree Celsius.
Maintenance:
Keep the electrode clean, over the electrode protective sleeve, please take out the batteries for long periods idle.
Warranty
Product warranty life time from the date of purchase. The following situations are not in the range of warranty, damage caused by misemploy(battery leakage ,water into circuit board etc.)physical abuse, the label tore.
Note:
1. The instrument is a professional instrument, please under professionals instructions in order to avoid instrument failure.
2. Avoid heat, direct sunlight.
3. Please adopting standard buffer solution calibration, incorrect calibration would cause measurement error, thus affecting the accuracy of the test solution or cause the instrument out working properly.

4. Do not thrown the instrument into the test solution to avoid the circuit board short circuit.