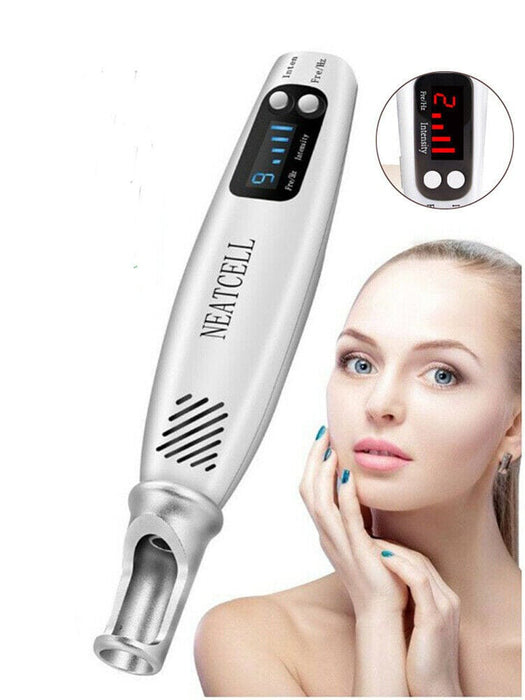 Portable Picosecond Laser Pen Red Light Tattoo Mole Dark Spot Acne Scar Removal
Save

25

%
Save

25

%
Original price
$199.99
-
Original price
$199.99
Availability:
9 in stock, ready to be shipped
Product Description:
 General usage and precautions:
Plug in the power, and the machine is energized, and the digital tube displays

Press frequency mode select button to select frequency, then set output 

energy size

After setting, press the emission switch to output energy

During operation, wear protective glasses

Keep the machine clean and avoid contact with other contaminants

No unauthorized operation of the hand

After use, please keep it properly after cleaning
1. Plug in the power, and the machine is energized, the digital tube displays
2. Press the "Inten" and "Fre/Hz" button to select the intensity and frequency. We suggest 
starting the operation from the lowest intensity and frequency, then upgrade as needed.
Note: 3 level is lowest frequency for Red laser pen.
3. Coated with anesthesia if you are afraid of pain, there will be a little pain when using the laser pen, feels like intravenous injection. 
4. Wear protective glasses
Note: Wear protective glasses when using Blue laser pen because it keeps flashing; there is no need to wear using Red laser pen.
5. Put the hole of the pen towards to the spot where you want to operate with.
Note: We suggest not staying in the same location for more than 1s.         
6. It has an effect on melanin after operation, you will see the mole turn more black, then you can stop, after a few days, it will fade and even disappear. For some mole, it will Cocoon, do not destroy it, leave it to shed naturally.
7. Cover with repair essence at once after operated, repeat to use repair essence in the following days. Do not expose to the sun, otherwise skin will be sunburned and turn red. 
8. Repeat to do this every few days if needed
Before operation, it is recom
mended to practice repeatedly on black paper (paper on other color has no effect), then operate to the face.
Before use the picosecond pen, the skin should be coated with Anesthetic.

After usage, it should be coated with repair products to help repair skin and prevent bacterial infection.

Please start from the lowest level, then slowly adjust to the suitable level.

Blue laser pen: 9 level is lowest frequency. Red lase pen: 3 level is lowest frequency.

Do not stay in the same location for no more than 2 seconds when operating.

Both Red light and blue light only have an effect on melanin.

Before operation, it is recommended to practice repeatedly on black paper to determine the skill and then operate to the face.

Let the scab shedding off automatically if there is a scab.

Do not use irritating or excitability skin care products 

Avoid exposure to the sun

Do no eat sun Sensitive food like soy sauce, chili sauce, seafood, lemon, carrot, papaya, celery, lettuce, potatoes, parsley, leeks, rape, oranges, seaweed, snails, spinach, figs, leeks, red beans.

Do not makeup

Avoid cover with water in 7 days after operated , you had better do not wash your face or the place which just operated, because waters contain bacteria, viruses, and some heavy metal ions. The skin is very fragile and sensitive, it may cause infection

Slightly wash your face with a damp cotton swab. Avoid the operated place ,avoid infection caused by improper care, and dry the water in time

Prohibit the operation of the picosecond in the position of the prosthesis on the face.
Package Included:
1 x Picosecond Laser Pen 
1 x Protective Eyeglass
1 x Power Adaptor
1 x English User Manual & Box