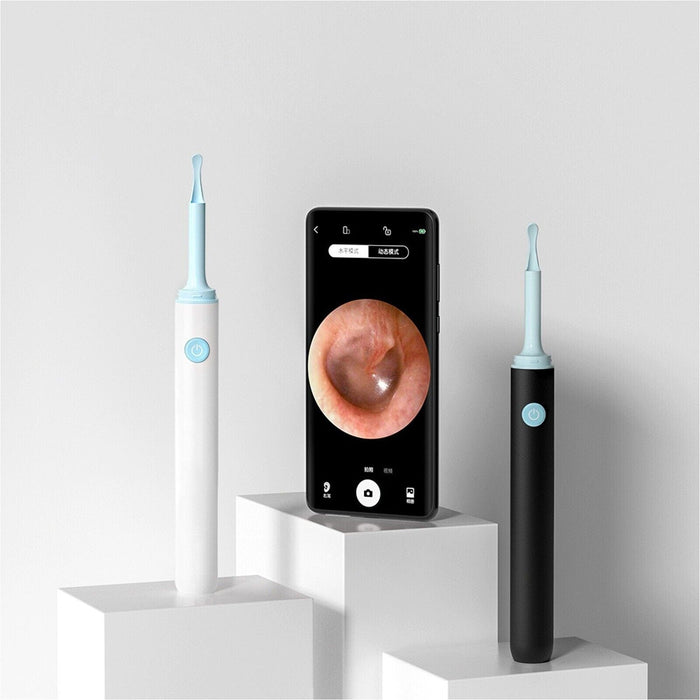 Smart WIFI Ear Wax Removal Visual Endoscope Otoscope HD LED Camera Cleaner Tool
Save

40

%
Save

40

%
Original price
$99.99
-
Original price
$99.99
Availability:
17 in stock, ready to be shipped
1920P High Definition Camera Avatar Controls ear wax removal kit equipped with 5 megapixels and 6 led lights, helps you to clean ear wax efficiently and accurately.

3.5 mm Ultra-thin Lens Features a 3.5mm diameter ultra-thin lens to fit different sized ears. Can be used by children, adults and pets. Also you can use this ear cleaning kit to check your nose, teeth, scalp roots and anywhere. (Please note that children using otoscopes must be used under adult supervision)
360°Wide Angle & 4 Silicone Ear Spoons 360° precise focus creates a clear large coverage view, and with smooth Silicone material Ear Spoon, it will not only be clearly visible in all directions, but also protect your ear canal from being scratched.

Portable & Wide Compatible This wireless visual ear wax removal has a wide range of uses, like to check your mouth, skin and so on, also it is equipped with four ear caps, which you can switch to use at will. And it comes with IP67 waterproof grade that is easy to clean with water or wipe with alcohol. (Please note cameras and lens only are waterproof)
Ear wax removal, when done safely and appropriately, can provide several benefits for ear health and overall well-being. Here are three key benefits of ear wax removal:
Improved Hearing: Excessive ear wax buildup can obstruct the ear canal and interfere with sound transmission, leading to temporary hearing loss or muffled sounds. By removing the excess ear wax, either through self-care methods or with the assistance of a healthcare professional, you can restore normal hearing. Improved hearing can enhance communication, enjoyment of music, and overall quality of life.

Prevention of Ear Infections: Ear wax serves as a protective barrier for the ear canal, trapping dust, debris, and bacteria that could potentially cause infection. However, excessive accumulation of ear wax can create a favorable environment for bacterial growth, increasing the risk of ear infections. By regularly removing excess ear wax, you can help reduce the chances of developing painful ear infections, earaches, or other related complications.

Relief from Discomfort and Itching: Some individuals may experience discomfort, itching, or a sensation of fullness in the ears due to excessive ear wax. This can be particularly bothersome and may cause discomfort or irritation. Removing the excess ear wax can alleviate these symptoms, providing relief and a greater sense of comfort.
Product material: ABS
Product color: white/black
Features:
1. Visual operation
2.5 million high-precision endoscope
3. Silicone head constant temperature
4. Four replaceable soft silicone sleeves
5.40 mm lens diameter
6. Lithium battery can be recharged repeatedly
7. Simplify the appearance design
8. IP67 waterproof
9.240 mAn battery
Notes:
1. The tolerance for manual measurement is 2-5g. Please don't mind your double.
2.Due to differences between different displays, the image may not reflect the actual color of the project. thank you very much!
3. SKU color is the color of the product packaging
The package includes:
1 * Ear scoop host
4 * Silicone Ear Spoon Head
1 * Charging cable
1 * Instructions
1 * Packaging box