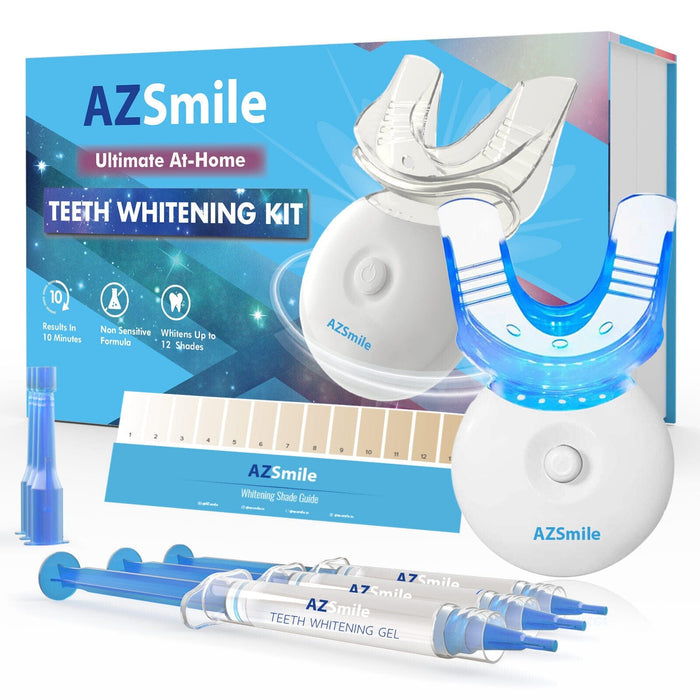 Teeth Whitening Kit at Home Light Tray FDA Gel Coffee Stain Removal
Save

36

%
Save

36

%
Original price
$139.99
-
Original price
$139.99
Availability:
15 in stock, ready to be shipped
Product Description:
How to use the gel / Kit?

1, put 1ml gel into upper and lower trays,
2, use the light whitening 15-30 minutes each time
3, if you want whitening quickly, you can whitening your teeth every day,  your teeth will be pearly bright white within 7 days. don't less 5 times treatment per week .your teeth will be pearly bright white within 2 weeks.
4,  if you are sensitive teeth , you can use 0.5ml Remineralization gel after teeth whitening treatment, sensitive teeth customer can whitening 3-5 times one week,  the gel won't burn your teeth. your teeth will be pearly bright white within 2 weeks.
What is Remineralization Gel?
Remineralization gel reduces sensitivity of your teeth, it's great for people who have sensitive teeth, especially for first time bleachers, normally used after the bleaching treatment also can be used to make up the mineral lost while the bleaching session, Remineralization gel also known as desensitizing gel. 
Whitening Gel Ingredients:
Sorbitol, Water, Carbamide Peroxide ,Propylene Glycol, Glycerin, Potassium Nitrate, Polyethylene Glycol-8, Hydroxyapatite, Cellulose gum, Hydroxyethyl Cellulose, Xanthan Gum, Saccharin Sodium, Menthol, Methylparaben, Sodium Bicarbonate, Aloe Leaf Extract, Chamomile Extract, Pomegranate Seed Extract, Propylparaben.
Remineralization Gel Ingredients:
Potassium Nitrate, Carbopol, Deionized Water, Glycerin, PH Adjust Materials, Essence, Edible Pigment.
What is the teeth whitening process? - Teeth Whitening is actually a bleaching process that lightens discolorations of tooth enamel. Our system uses an effective whitening solution retained in a 1pc Silicone Mouth Tray (don't need to put the tray into hot water, easy to) that is worn over your teeth for only 15 to 30 minutes per day until you have reached your desired level of whitening. Our product is a 35% carbamide peroxide solution which allows a shorter period of time for results.

How it removes stains - Our system will remove most stains with a gentle action that whitens your teeth. As the active ingredient in the gel (carbamide peroxide 35%), is broken down, oxygen acts upon the stained organic deposits, which oxidizes them into a white color. This process makes the overall tooth color closer to its natural unstained color. Your tooth structure remains unchanged. Years of clinical tests have demonstrated the safety and effectiveness of this system. Over 95% of people treated achieve some level of tooth whitening. Crowns, bridges, bonding's, and fillings do not lighten.

Packing list:
1x 5-LED Light
1x Silicone Tray ( 2 in 1 upper and lower tray)
3x 3ml Carbamide Peroxide Whitening Gel