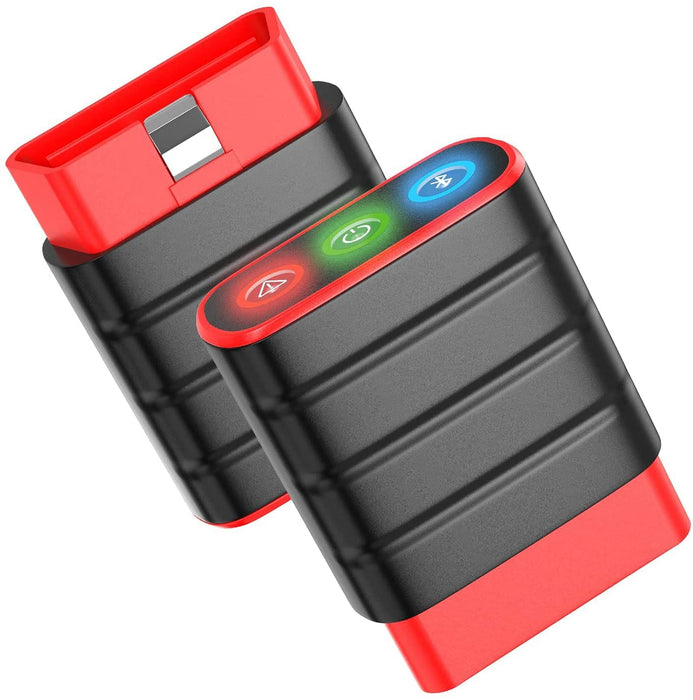 Thinkdiag Mini OBD2 Auto Code Reader Diagnostic Scanner TPMS ABS IMMO SRS Tool
Save

41

%
Save

41

%
Original price
$169.99
-
Original price
$169.99
Availability:
20 in stock, ready to be shipped
Product Description:
THINKDIAG is an automobile diagnostic tool with professional-grade functions. In the past, mechanics and car tuners have to use bulky diagnostic tools with large screens and connector cables, or laptops plugging into the OBD II port.
THINKDIAG changes that. Plug the THINKDIAG dongle into your car, connect it to your smartphone via Bluetooth, and your smartphone becomes a professional diagnostic tool.
15 Maintenance RESET Functions:
1.Oil Lamp Reset Service :
allows you to perform reset for a new calculation of Engine Oil Life system once changed the oil.
2.EPB service:
it is important in the maintenance of electronic braking system's safety and efficiency.
3.BAT battery service :
allows the scan tool to evaluate the battery charge state, monitor the close-circuit current, register the battery replacement, and activate the rest state of the vehicle.
4.DPF service :
specially works for Diesel Particulate Filter system with DPF regeneration, DPF component replacement teach-in and DPF teach-in after replacing the engine control unit.
5.SAS service:
helps clear the fault steering angle sensor memories and plays an important role in the steering angle sensor calibration.
6.TPMS service :
makes sense in displaying sensor IDs from the vehicle's ECU, inputting TPMS sensor replacement IDs and testing sensors.
7.IMMO Key Programming:
the unique car key programming and read pin code function, it is mainly used to disable the lost vehicle keys and program a new replacement key fob.
8.ABS Bleeding :
ABS brake bleeding to get a firm brake pad after air exhaustion after repair ABS pump system
9.Sunroof Reset:
The sunroof memory generally needs to be reset when the vehicle's battery is replaced or the car dies
10.Suspension Reset:
Try reset electronic suspension air ride with the massage system close all doors koeo flip through message system go to suspension reset or on off
11.Gearbox Reset
Procedure Reset Transmission Adaptive Learning DIY. Start the car and drive. Once you perform this procedure the Engine Control Unit (ECU) and Transmission Control Unit (TCU) will work together to learn how you drive by monitoring your driving pattern. After you follow this programing method of the TCU / ECU drive the car.
12.AFS Headlamp Reset
'AFS' means Adaptive Front lighting System (at night with the Bi-Xenon headlights) it swivels either side, pressing that button means they stay pointing straight ahead and don't turn when you turn the steering wheel
13.Injector Coding
Leaking injectors and some dead injectors can be missed even when an injector is disabled. Other problems with the ignition system and mechanical components also may not show an rpm loss when an injector is turned off
14.Throttle Adaptation
The throttle body is a tube containing a pivoting flat valve (butterfly) that is used to control the amount off-air entering an engine. In an electronically fuel injected car, a throttle position sensor and air flow sensor communicate with the computer, which supplies the corresponding amount of fuel needed at the injectors. It must need re-learning throttle sensor position after clearing or repair
15.Gear Learning:
The scan tool monitors certain camshaft position sensors signals to determine if all conditions are met to continue with the procedure for Engine running
Vehicle diagnostic tool & Convenient, economical and advanced vehicle accessories.
1.Supports OBD-II protocol, 10 test modes.
2.Free OBD software download.
3.Built-in Bluetooth module.
4.Compatible with Android and iOS devices.
5.Support all cars with 16-pin OBD port.
6.Reads all DTCs and supports live data stream display.
Package Included:
1x Easy Diag Main Unit
1x User Manual