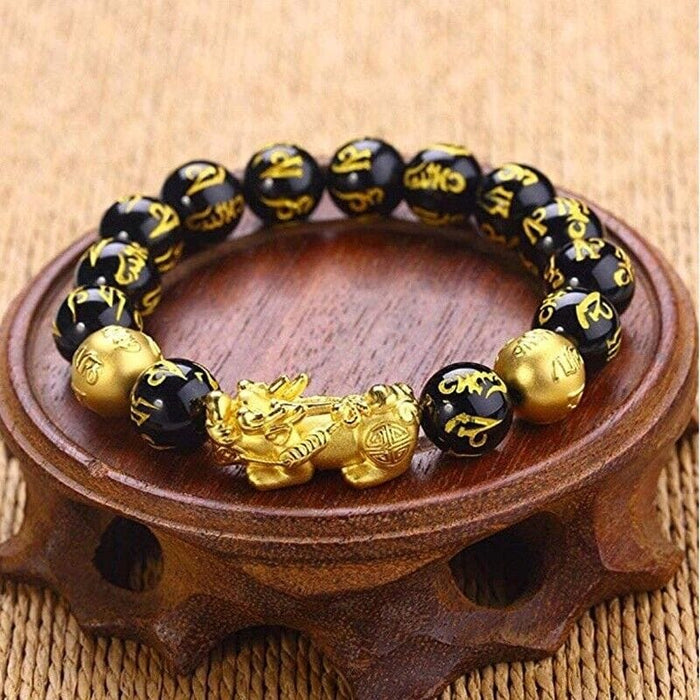 US Pi Xiu Good Luck Attract Wealth Black Obsidian Feng Shui Double Bracelet Bead
Save

40

%
Save

40

%
Original price
$74.99
-
Original price
$74.99
Availability:
15 in stock, ready to be shipped
1. Pi Yao also known as Pi Xiu, Pi Xie, it's a Symbol Traditional of Protection, Luck and Richesse in Asia.It is believed to bring fortune, good tidings and protection to his
    2. Color-Changed PiXiu: As the temperature changes, the Pixiu will change its color. It can can sense your temperature. It's amazing.
    3. This sanskrit mantra honours Ganesh — Ganesh embodies wisdom, new beginnings, and is the remover of obstacles.
    4. Bead diameter:10mm;the total number of beads :16pcs + 1pcs. Bracelet length is adjustable.
To start with, here is a legend story: Long long ago in ancient times, there is an animal called Pi Xiu. It is the ninth son of the Dragon King. Gold, Silver and jewels are all its food. It has a dragon head ,horse body and wings. It is so powerful that it can shift bad luck to good. Later, people then regard it as a symbol of wealth and good luck. Whoever wearing the Pixiu bracelet will also be lucky
Features:
Pixiu represents wealth ,Lucky.
It's a wonderful way to draw a positive energies, wealth, success, health and good luck into your life.
It's an excellent gift for anniversaries, graduations, birthdays
The bracelet is to give both are fine for personal use or to share.