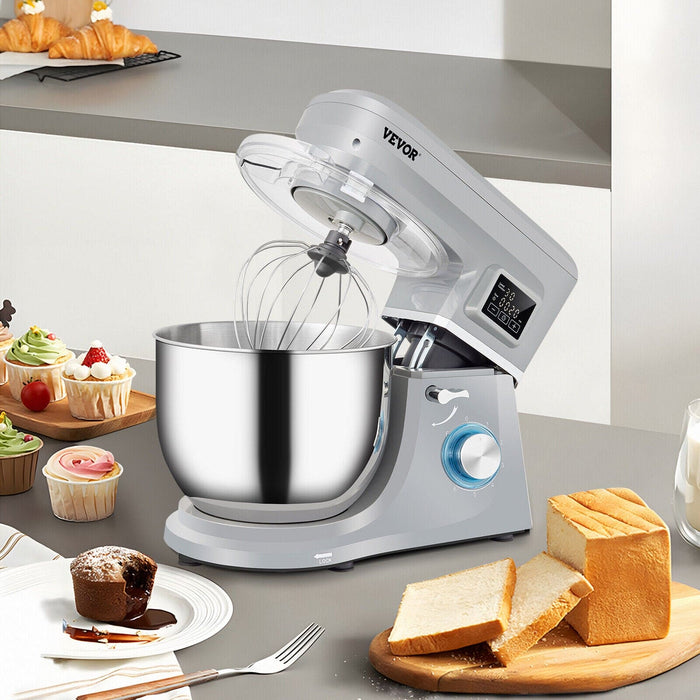 VEVOR Stand Mixer 7.4Qt Electric Dough Mixer w/ 6 Speeds LCD Screen Timing 660W
Save

30

%
Save

30

%
Original price
$399.99
-
Original price
$399.99
Availability:
11 in stock, ready to be shipped
Those You Care About:
Q: Can it make bread and cakes?
A: Sure and more than these. You can make bread, cakes, pizza, and biscuits by changing different accessories.

Q: Can it be cleaned in the dishwasher?
A: Yes. Dough hook, beater, whisk, stainless steel bowl, and splash-proof cover, all these are dishwasher-safe, making cleanup a breeze.

Q: Designed with a tilt-head?
A: Yes. You can raise its head with a light press, and the power will be cut off at the same time, making it more secure to use.

Q: Shake violently during use?
A: No. Several powerful suction cups at the bottom attach the machine firmly to the desktop, ensuring a more stable operation without shaking.
Comfortable User-Friendly Control Panel: Get ready to benefit from the intelligent LCD panel, operating this stand mixer couldn't be any easier. You can clearly perceive the precise remaining time from the screen, and set different durations according to different purposes. Thanks to the auto-stop function, you don't have to keep an eye on the machine all the time. Start a hassle-free baking journey even when your hands are occupied.

Complete Accessories for Outstanding Performance: Everything you need to create the perfect mix is included. Our planetary mixer comes with 3 attachments (all dishwasher-safe): a dough hook to knead flour, a beater to mix butter & mashed potatoes, and a whisk to whip creams & custards. Thoughtful accessories like a scraper and splash-proof cover are also provided. Get ready to enjoy effortless baking and food preparation with this compact kitchen all-rounder.

Unstoppable 6-Speed Pure Copper Motor: Choose how you mix! Equipped with a 660 W gear-driven copper motor, this mixer features continuous high-torque mixing, quiet operation, and outstanding reliability, standing up to the most demanding work in your kitchen. 6 speed levels allow you to perfectly mix different products at different speeds, from kneading dough slowly to whipping cream quickly. 1st-2nd speed for dough, 3rd-4th for butter & salad, 5th-6th for cream & egg white. Start mixing like never before.
7.4 Qt Stainless Bowl with Fermentation: Designed with a built-in thermostatic heating element, the 7.4 Qt / 7 L stainless steel bowl can automatically heat up to the appropriate temperature for fermentation. Raw materials for 6 toasts can be kneaded at a time, saving half of your waiting time even in winter. It is convenient to change the attachments and pour in the ingredients thanks to the tilt-head design. Plus, the bowl is dishwasher-safe and comes with a splash-proof cover.

Never Worry About Mixing: Are you ready to mix! Don't stop! The planetary mixing and stirring mechanisms greatly contribute to full contact between the beater and the bowl's inner wall. The flat beater is designed with a soft silicone edge, which can effortlessly scrape off the sticky ingredients on the bowl and then mix them together. It doesn't even matter if they are left on the sides or at the bottom. Don't hesitate to knead dough and various bakery essentials with VEVOR's commercial mixer.