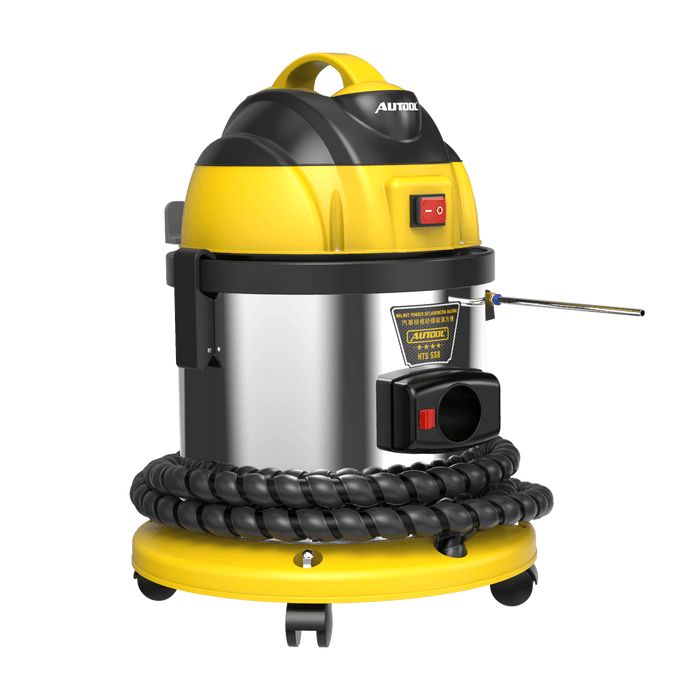 Walnut Blaster Car Engine Intake Valves Carbon Deposit Cleaner Cleaning Machine
Save

19

%
Save

19

%
Original price
$799.99
-
Original price
$799.99
Availability:
17 in stock, ready to be shipped
AUTOOL HTS558 walnut powder engine Intake pipe valve clean machine is a advanced equipment for clean engine intake carbon deposition. Keeping engine in healthy status, make sure engine provide high quality power constantly.
AUTOOL HTS558 Car Engine Carbon Deposition Cleaner Feature:
1.Deep removal of carbon deposits Deeply remove the highly sticky carbon deposits on the intake manifold, intake & exhaust valves. Solve the problems of unstable idling, insufficient fuel combustion, and reduced air-fuel ratio.)
2.External air source This enables the walnut sand grit to strike the carbon deposits more powerfully and efficiently.
3.Built-in dust filter It can separate the recovered walnut sand grit from carbon deposits for recycling.
4.Integrated design The walnut sand grit can be sprayed and recovered simultaneously.
What is carbon deposition?
There are some hydrocarbon olefin residues attach on engine intake, cylinder when fuel burn in engine not completely. It residues change into hard black shell in high temperature condition , that called carbon deposition.
Why need clean carbon deposition?
Carbon deposition will decrease air-fuel ratio, cut down engine output power, increase fuel consumption, engine drastic shake on idle status...all the thing will hurt engine deeply. So normally we should clean carbon deposition after every 40000-50000 kilometer trip.
What is walnut powder(sand)?
Walnut sand is a pure natural polish material, its hardness was lower than metal but higher than carbon deposition, it will clean intake pipe and back side of intake valve thoroughly but no damage. A large amount of pores on surface of walnut sand which provide super adsorption capacity, non-toxic and corrosion preventive.
It was hardly dissolved in acid, alkali and water. Crash walnut shell into powder, after a vigorous selection process then we get walnut sand. It show high performance in the three area: hardness, anti-pressure, wear-resisting.
How to use?
1.Open head cover of AUTOOL HTS558 and pour into walnut powder (need 2- 4KG ), press dust guard on walnut powder then close cover.
2.Join spray gun muzzle and recycle hose together. (there is a hole on recycle hose)
3.Remove intake manifold of engine, plug spray gun into intake, turn crankshaft to close intake valve. Then connect high pressure air pump((not include)) to HTS558.
4.Connect AC power, start clean. The process should last 1-3 minutes .(depending on carbon deposition circumstances)
5.Close AUTOOL HTS558, check up cleaning result. Normally, walnut powder can be reuse 5-10 times.(depending on carbon deposition circumstances)
Recommend Reason :
1 Air pump pressure should more than 0.7Mpa (7bar/102PSI)
2 Walnut powder diameter should between 0.4-0.8mm, amount in 2-4KG(4-9LB)
3 Cleaning time between 1-3 minutes
Package include:
1x AUTOOL HTS558 unit
2x Spray gun
1x Goggles
1x Recycle hose
1x Recycle hose and spray gun connector